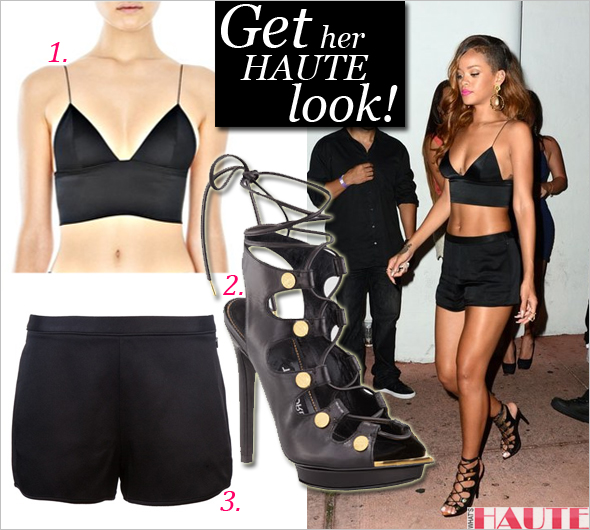 If you follow Rihanna on Instagram, it seems like she prefers being, uh…lightly dressed. Mostly it's in the 'privacy' of her hotel rooms or at home with friends, but every now and then she ventures out in public wearing very little.
She was spotted out the other night with her best friend Melissa, wearing an Alexander Wang getup that most of us would only feel comfortable wearing in the privacy of our own bedrooms. But if you've got a body like Rihanna's, why not show it off? She wore a $225 Alexander Wang Silk Satin Triangle Bralette
(it also comes in leather, pictured below) and a pair of $195 Alexander Wang Shiny Crepe Piped Waistband Shorts in black, paired with Tom Ford Lace-Up Platform Sandals. Sexy and sporty chic!


Unless you're a celebrity like Rihanna, you probably can't (or don't want to) parade around outside in a bra top, but they're nice to wear under a sheer blouse or a casual denim shirt! Check out these bra top options to get Rihanna's look for yourself!
Get the look:
Bra tops:
Satin shorts: