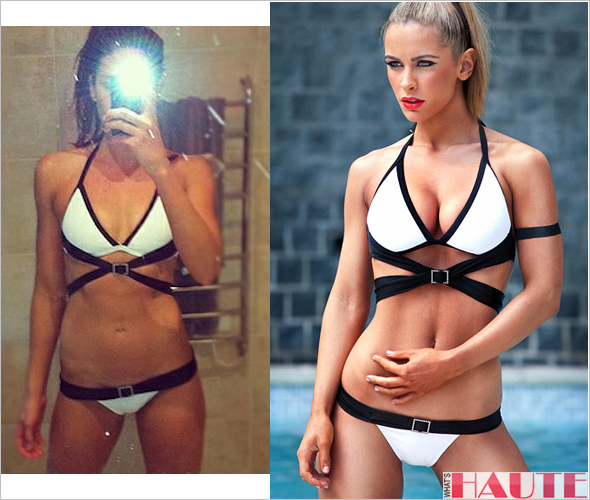 Olympian and three-time gold medalist Stephanie Rice is at the center of a ridiculous swim controversy, not about her swimming skills, but rather her choice of swimwear! Seriously?! The Aussie swimmer recently tweeted a pic of herself wearing a swimsuit (the Tomb Raider bikini which was a birthday gift from designer Ellie Gonsalves) which, apparently made waves with her home country. We're not sure what Australia has against strappy bikinis but their loss, your gain.
We tracked down the swimsuit in question – it's the Tomb Raider Bikini by Ellie Gonsalves ($175). It features a white bikini top (which comes padded but non-padded options also are available) trimmed in black straps that criscross in the front, and are trimmed with a rectangular diamante in the center. The bikini bottom is also white, with a black waist belt also trimmed with a center rectangular diamante, matching the top.
Even though you might not have the body of an Olympian, you too can rock this figure flattering, strappy bikini. Just not in Australia. Buy it here.
Photo: Twitter