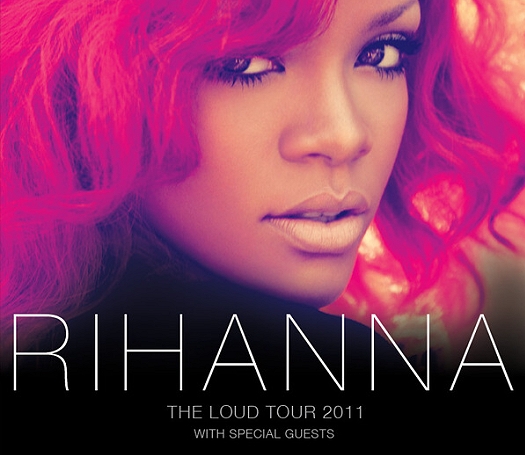 We've followed every step of Rihanna's style evolution, from her early 'Girl Like Me' days of long hair and Hervé Léger dresses, to her 'Good Girl Gone Bad' and 'Rated R' days of her half-shaved head, blond mohawks and rocker-inspired looks, to the present, where she rocks 'LOUD' red locks and colorful outfits. At her concert at The Meadowlands last week, we took in both her amazing talent and her even more incredible on-stage style. Here's a roundup of what she wore, all selected and explained by her tour stylist Mel Ottenberg:

First look: Custom made Jeremy Scott blue lamé trench coat, Adam Selman and Tom Binns bikini, custom made Max Kibardin boots

Mel Ottenberg said: "I was thinking of a Fiorucci rave goddess. The bikini is an insane asylum. I wanted to use Tom Binns jewelry, but then I thought, let's have him collaborate on an outfit. And Tom was game. Adam Selman made the bra and panties. We fit it four times on Rihanna to make it fit in that incredible way that hugs her curves. Once the fittings were completed we gave it to Tom to paint. When you see that thing in person it's the most incredible fucking thing."
Photos: Matthew Becker/Retna Ltd. & What's Haute Magazine
Second look: Yves St. Laurent men's tuxedo, Yves St. Laurent men's shirt, Lanvin custom bow tie, custom made Adam Selman bodysuit, Fleet Ilya harness, and custom made Oscar de la Renta boots.
Mel Ottenberg: "The white booties she is in are scandalous. How major are those slutty scandalous costumes threeasfour did on the backup dancers? It was entertaining to make them work on that!"
Photo: Ethan Miller/Getty Images for ABC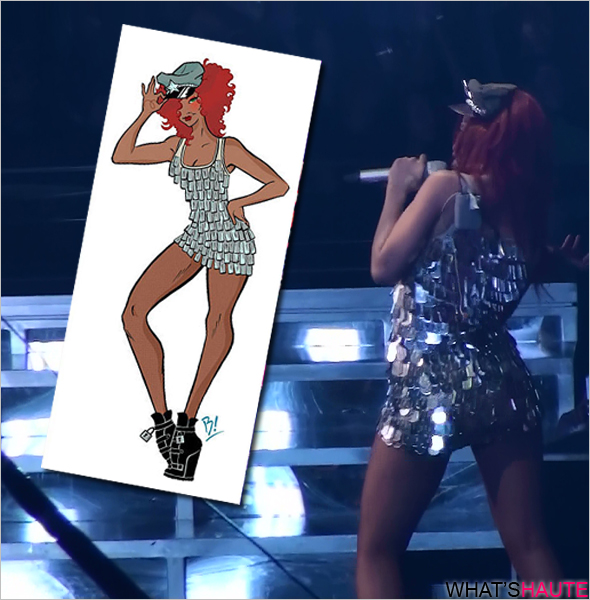 Third look: Custom Jeremy Scott dog-tag dress; Jeremy Scott for Adidas boots
Mel Ottenberg: "Jeremy came up with that idea, and the way he realized it was super great with really lightweight dog tags. The backup dancers we just styled it from the Army Navy store."
Photos: What's Haute Magazine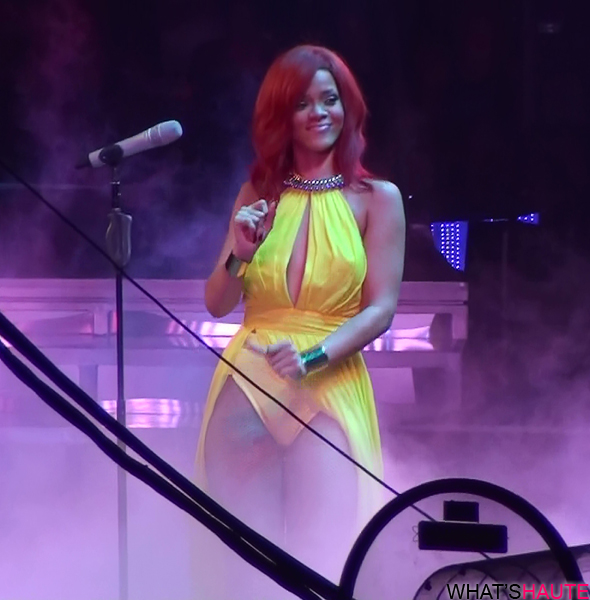 Fourth look: Custom gown by Mel Ottenberg, Adam Selman, and Nicolas Caito, custom boots by Mel Ottenberg and Pasquale, Alexis Bittar cuffs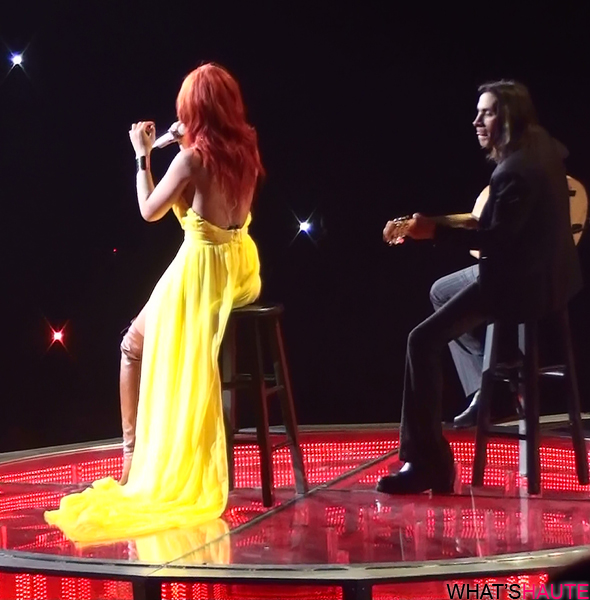 Mel Ottenberg: "This is the slow jams part of the show, but we wanted it to still be rock 'n' roll. I designed the boots, and Pasquale made them. He is a shoe god. A genius of shoes. We did brown because there was so much black in the S&M portion. Adam and I designed the dress and worked with Nicolas Caito, who does custom gowns. That dress works for dramatic slow songs, but it looks like Donna Summer as a rock star."
Photos: What's Haute Magazine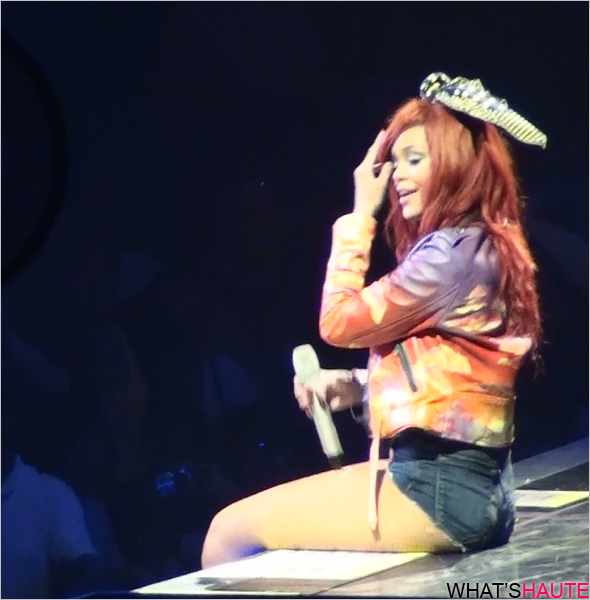 Fifth look: Custom Adam Selman bow, hot pants & top, hand-painted Perfecto jacket by Claire Barrow
Mel Ottenberg: "This is so twisted. Adam is all about denim and bandannas so he made super-sick denim bandana hot pants for her. They are super high-waisted, and they have holes and patches all over them. And he made that big stupid bow."
Photos: What's Haute Magazine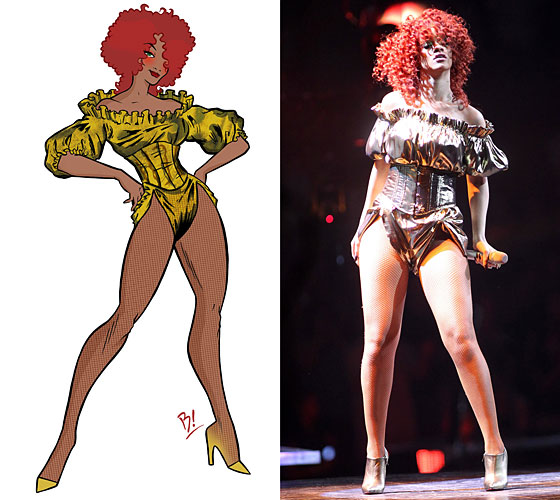 Final look: Custom made metallic gold Jeremy Scott romper dress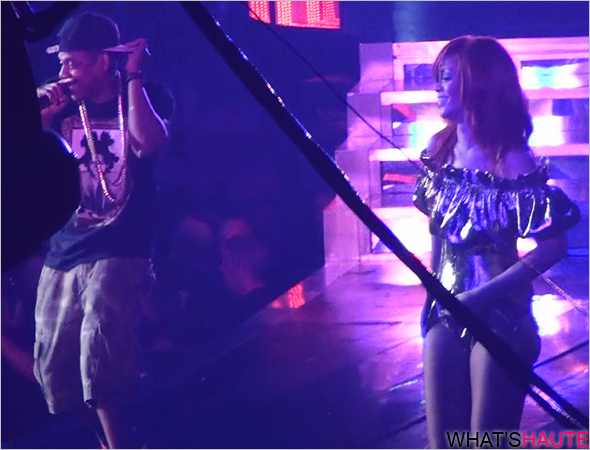 Mel Ottenberg: "Jeremy Scott's gold collection was early in his career, his second show in Paris, and super controversial. People said he'd never work again afterwards. So I said, lets do an all-gold outfit that references that show. I showed the pictures of that show to Rihanna, and she loved them."
Photos : DZILLA/bauergriffinonline.com & What's Haute Magazine