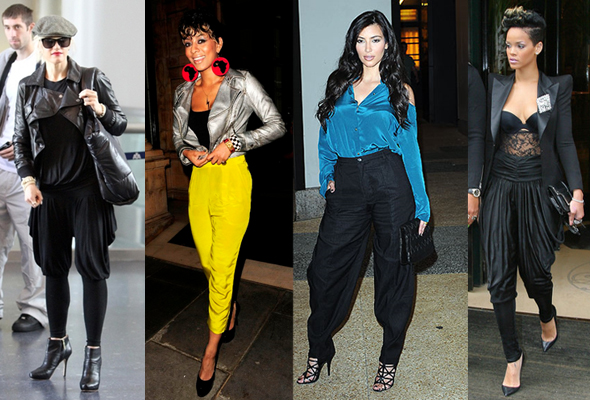 Harem pants are one of those fashion items that always seem to be popular, even though they're equally loved and hated. Called harem pants, 'Hammer' pants, or genie pants, they can range from high-fashion – on and off the runway – to costume-y – think "I Dream of Jeannie". They're trendy but while some brave fashionistas can successfully rock the look, many others shy away from the droopy pants. Four of our favorite fearless celebrity fashionistas have rocked them, but we still have mixed feelings on their looks.
We can always count on Gwen Stefani, Keri Hilson, Kim Kardashian and Rihanna to rock some cutting-edge looks, so naturally they'd all wear harem pants! Gwen paired her balloon-style harem pants with an edgy black leather jacket, black draped top, black bag and black stiletto boots. Keri went the colorblock route with chartreuse high-waisted harem pants, paired with a silver leather jacket and big red earrings. Kim rocked balloon-legged harem pants with a blue silk blouse with cutout shoulders. And Rihanna wore all black Balmain – harem pants, bustier and pointed shoulder blazer.
What do you think of their looks? How do you feel about harem pants? Do you absolutely love them or hate them with a passion? Are they haute or not? Weigh in and let us know how you feel!
About Miracle Whip
We're not for everyone. So, Love us? Great. Hate us? Fine. Not sure? Undecided? Don't care? That's where we've got a problem. It's time to get off the fence, get us on a sandwich and make a choice. Are you Miracle Whip? Pick a Side. Get a sample. Go to MiracleWhip.com.
Disclosure: This is a sponsored post and compensation was provided by Kraft Foods and Miracle Whip via Glam Media. The opinions expressed herein are those of the author and are not indicative of the opinions or positions of Kraft Foods and Miracle Whip.