The 53rd Annual GRAMMY Awards aired last night and while the show and performances were a bit lackluster, the red carpet looks and performance outfits more than made up for it. We've rounded up the top 10 most tweeted about looks, from wow to weird, at the Grammys. Check it out:
Rihanna's Jean Paul Gaultier dress
Rihanna hit the red carpet in a white and sheer JPG gown that had red carpet host Ryan Seacrest afraid to look down. It was tweeted that Rihanna looked like she was wearing "rows of pipe cleaners", and  "a bunch of leis wrapped around her"; others said she "looked like a bird". It was definitely a risque and attention-getting dress but would you expect anything less from the girl who's latest hit is titled "S&M"?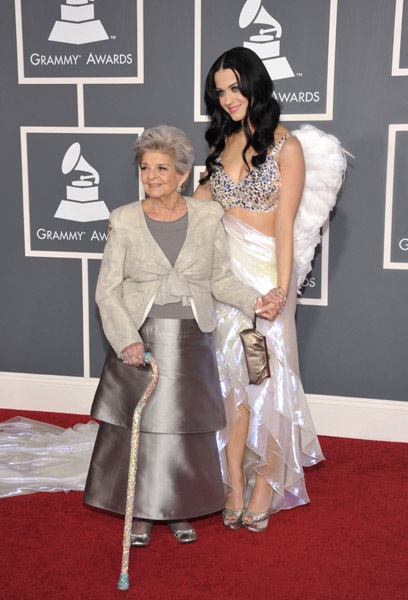 Katy Perry's angel wings and her grandma Ann's crystal-studded cane
Katy Perry, husband Russell Brand, and her grandma Ann Hudson came to the Grammys together, all decked out in Armani. But Katy added a special touch to her and her grandma's looks. She paired white angel wings with her white cut-out Armani gown and ordered a custom crystal-studded cane for her grandma to strut down the red carpet in style. Awwww!
Gwyneth Paltrow's shoes and Cee Lo Green's everything else
Gwyneth Paltrow and Cee Lo Green took the stage together to perform his hit "'The Song Otherwise Known as 'Forget You'" and the Twittersphere was all abuzz about Gwyneth's Christian Louboutin multicolor Futura nappa leather peep-toe ankle boots. She sang in an all black catsuit, with Cee Lo, who performed wearing a getup reminiscent of the Muppets, The Mummers and the NBC peacock, according to some tweeters.
Jennifer Lopez's silver sparkler dress
Jennifer Lopez shined in a glamorous silver sequined Emilio Pucci minidress that showed off her gorgeous gams. She paired it with a matching clutch and sky-high silver Christian Louboutin shoes. We're guessing she used a Venus razor before the show?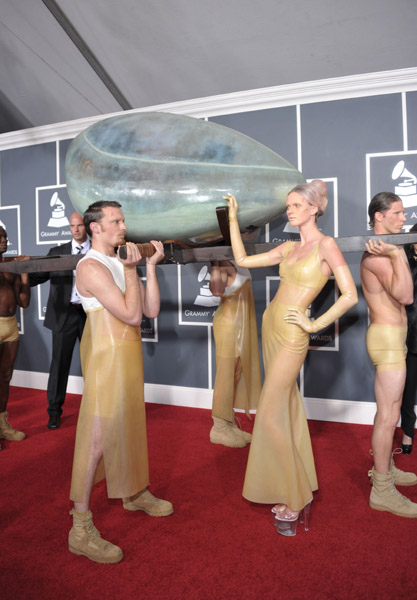 Lady Gaga's pod/egg/womb, prosthetic shoulders and butt pads
Everyone wanted to know – WWGW? (What Would Gaga Wear?) And she arrived on the red carpet in – a womb? Some also called it an egg or a pod. She finally exited the pod on stage to perform her new hit single, "Born This Way," (tweeters called it 'Express Yourself v. 2.0') performing in little more than latex flaps. Later she wore a leather outfit with exaggerated butt and breast pads and accented with prosthetic latex shoulders. Alrighty then.
Janelle Monae and Bruno Mars matching looks
B.o.B. took the stage to perform with Janelle Monae and Bruno Mars for an old school style set, but Monae and Mars' dueling black suits and pompadour hairstyles really stole the show!
'Best New Artist' Esperanza Spalding
The world tweeted a collective "Who?" when Esperanza Spalding was named 'Best New Artist'. But her smoky jazz singing voice and gorgeous green and yellow dress made us quickly forget that she beat the Biebs.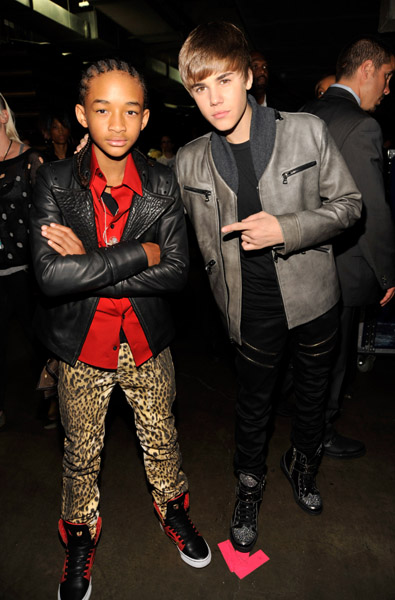 Jaden Smith's leopard jeggings
Jaden Smith's leopard jean leggings actually stole the show when he performed with Usher and Justin Bieber.
Nicki Minaj's leopard overload
Nicki Minaj was said to resemble Cruella De Vil with her large coif of white/blonde hair with a black skunk stripe and leopard print, and her outfit was full of leopard prints as well, from head to toe.
Aretha Franklin's slimming pink gown
Aretha Franklin didn't actually attend the Grammy awards show but got to thank everyone via satellite for the tribute to her. And she looked amazing, having lost a lot of weight and showing off her new body, wearing a flattering pink, beaded strapless gown at her home.
Photos: Monica Morgan/John Shearer/Kravitz/Caulfield/Mazur/Busacca/Wireimage