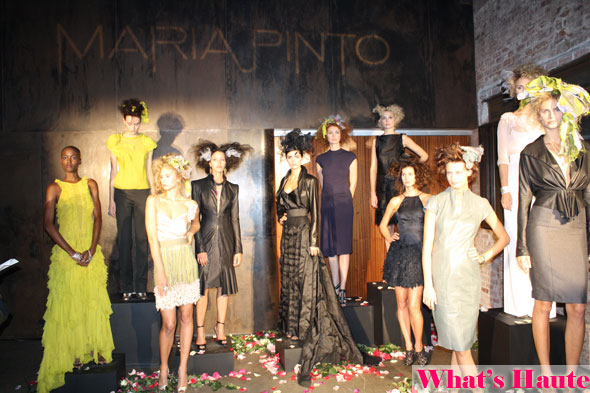 We've been eyeing the First Lady's fashions even before she became the First Lady and the one name we kept hearing over and over again was Maria Pinto. The Chicago-based designer has been dressing Michelle Obama long before the nation took notice, and it's easy to see why Pinto's designs are a favorite of Mrs. O – they're figure flattering, fashion-forward and classically glamorous.
I had a chance to chat with the designer after viewing her selection of beautifully constructed and colorful dresses, jackets, and separates including pants, blouses and skirts at her Spring 2010 presentation. Her inspiration? Argentine tango dancers and polo players. Pinto said she visited a while back and loved their vibrancy and sensuality so much that she used the inspiration to incorporate into her line.
Palette: Mimosa, canna, salvia, fuchsia, peony, steel, sand and mud
Silhouettes: Ruffled minis, A-line trenches, pencil dresses, pleated pants and skirts, sleeveless gowns, structured blazers, tops and jackets with strong shoulders
Materials: Chiffon, soft leather, stretch wool, shirred jersey
Pièce de résistance: Black Ritero leather trench with pointed shoulders
Takeaways: Maria Pinto designs for the everyday woman who loves to inject her wardrobe with a bit of glamour. Simple silhouettes are embraced by unlikely fabrics and color choices but the result is stunning. We can see Michelle Obama snapping up this entire collection. We want it all too.