I always love to find out how much borrowed jewelry a celebrity is wearing to a red carpet event. If the Golden Globes earlier this year was any sign of how much money celebrities will be wearing to future events, then we're in for a treat for the Oscars, hosted by Hugh Jackman.
Being a jewelry designer who is heavily immersed in this industry, I have a good knack for predicting trends and what people will wear. Here are my trend predictions that you can expect from the Oscars.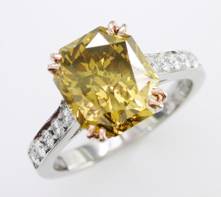 (Photo Credit: www.whiteflash.com)
Diamonds are a fail-proof solution to any jewelry concerns, especially Natural Colored Diamonds. Celebrities are often worried that jewelry can lead to a "Worst Dressed" nomination, and therefore, opt for diamonds. You'll definitely spot them on the red carpet, from dangling earrings and big bold rings to subtle button earrings. But, unlike previous years, stars will keep the diamonds simple. They don't want anything too flashy due to the state of the economy right now. So be on the look out for a hint of color on their diamond jewelry this year.
SMALL STUDS & BUTTON EARRINGS
Celebrities want their couture dresses to do all the talking, so we can certainly expect to see a lot of button earrings. Button earrings always enhance the overall look, but don't take away from the dress. They also make a fabulous accent to the ever-so-popular one-shoulder dress.
CLIP-ON COMEBACK
Many celebrity stars have a big secret – they love clip-on earrings! Stars often ask jewelry designers to create clip-on earring styles for them, even if they have pierced ears. You see, those big, diamond earrings can be very heavy, which can stretch out the ear. For comfort and beauty, many celebrities opt for clip-on styles to avoid any problems. This will be a trend that will continue into 2010.
Our celebrity stylists insiders say that Olivia Wilde and Eva Longoria both wore clip-on earrings to the Golden Globes.
BRIGHT PEARLY WHITE
Celebrities won't just be flashing their pearly whites at the camera at the Oscars – you can also expect white dresses and accessories as well. White was one of the most popular hues of choice at the Golden Globes and Screen Actors Guild Awards (Kate Beckinsale, Salma Hayek, Sandra Bullock, Teri Hatcher, etc). We can expect to see some additional white jewelry on the red carpet.
To see how accurate my predictions are, check out the Oscars this Sunday.